Efficient concept for utilising production waste to generate energy for you
We have been building indus­trial biomass boiler systems for energy production since 1975. Biomass fuel is subject to fewer price fluctua­tions than fossil fuels and makes a key contri­bution to a thriving future thanks to its sustaina­bility and CO2 neutrality.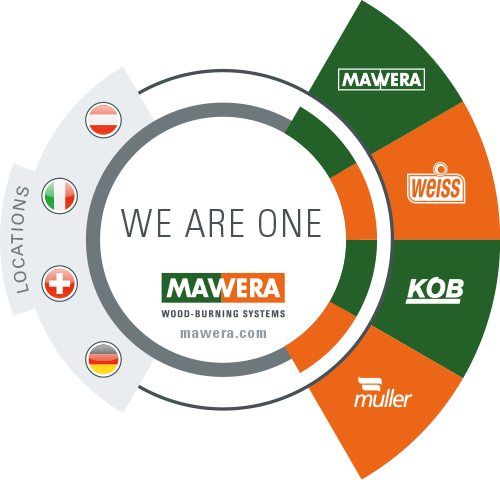 Acqui­sition of the Viessmann biomass service division in Dillenburg
In November 2020, the service company Viessmann Indus­trial Service sold its biomass division to MAWERA Holzfeuerungs­anlagen GmbH, including the area of Weiss systems, which had been part of the Viessmann Group since 2015.
The acqui­sition of the Dillenburg site has signi­fi­cantly streng­t­hened our service offering in Germany. "The synergies are unique, and we are excited to make the compe­tence of the Dillenburg employees available to our customers in the future," says Peter Mender, MAWERA Managing Director and partner.
With this addition, we are now repre­sented in our most important markets with our own offices and compe­tence centres.
Compe­tence centre Switz­erland: MAWERA, Köb and Müller systems, MAWERA CH AG
Compe­tence centre Italy: MAWERA and Köb systems, MAWERA Italia S.r.l
Compe­tence centre Germany: MAWERA and Weiss systems
The goal of our competent service team is to look after enthu­si­astic customers with fast, solution-orien­tated, long-term service.
History
Holzfeuerungs­anlagen GmbH (HFA) was origi­nally founded in 1975 under the name "MAWERA". We are specia­lised in the develo­pment and manufacture of large indus­trial biomass boiler systems, and are a competent service partner to over 3000 customers around the world in the area of biomass systems. In 2006, the Viessmann Group took over the business of MAWERA. Since July 2020, SAB-Holding has been a partner in MAWERA Holzfeuerungs­anlagen GmbH. The merging of MAWERA and SAB-Holding guarantees a seamless transition with regard to products, service and the supply of repla­cement parts. The merger therefore estab­lishes a solid long-term outlook for all customers, partners and employees.
The highest quality – down to the smallest detail
Our work begins with the highest standards – from research and planning to production and maintenance. Every firing system is manufac­tured by hand and subject to the strictest quality standards.
We only use high-quality components in our systems. In selecting these components, we pay attention to quality, efficiency and optimal inter­action between the individual parts as well as long service life and ease of maintenance. Above all, high system runtimes and availa­bility enable us to optimise life cycle costs.
Service – we are your partner throughout the life of your system
Good service is there when you need it. This is why our services are orien­tated around your everyday needs. With our service programme, you receive the assis­tance of our highly competent and experi­enced employees. We offer you custom-tailored maintenance contracts, remote maintenance in the event of faults and compre­hensive, profes­sional repla­cement parts management.